Polecamy
Lokalna Strategia


Rozwoju Obszarów Rybackich

na lata 2011-2015

Więcej

Obowiązujące


Akty Prawne

Więcej

Informacja


o możliwości składania wniosków o dofinansowanie

Więcej
History
The "Zegrzyński Lake Fisheries Local Action Group" association was established on 9 November 2009. The establishing meeting in Legionowo gathered representatives of three sectors: the social, the economy and the public one.
The idea of the FLAG establishment was conceived by the Zegrzyński Lake Partnership Local Action Group (LGD Partnerstwo Zalewu Zegrzyńskiego), which was also the facilitator of the process. This partnership greatly contributed to the success of the undertaking as the ZLP LAG experience and expertise could be transferred into a new entity. The rationale for this synergy was based on the fact that objectives of the axis 4 of the Fishery Operational Programme 2007-2013 and of the axis 4 of the Rural Development Programme 2007-2013 are very similar. Another pillar of the success was the fact that the ZLP LAG received a very strong support from the Mazovian District of the Polish Angling Association (PZW), which became a strategic partner in the process.
As the ZLP LAG area extends around the Zegrzyński Lake and three major Polish rivers: the Wisla, the Narew and the Bug, which constitute the main fishery area of the Central Mazovia, a decision was taken that the FLAG will cover the same area of seven communes as the LAG does, being: Dabrówka, Jablonna, Nieporet, Radzymin, Serock, Somianka and Wieliszew.
Three workshops, supported financially by the Ministry of Agriculture and Rural Development (offered to all potential FLAGs to be created in Poland) and carried out by the Agrolinia Association were a starting point for gathering people and instititions interested in cooperation for enhancement of the fishery sector and overall development of the Zegrzyński Lake area. They were followed by three other workshops and a number of consultation activities, aiming at definition and elaboration of the Local Development Strategy of the Zegrzyński Lake Fishery Area. The document had been elaborated and approved by the FLAG General Assembly, which gathered on 24 February 2010. It constituted a basis for the Zegrzyński Lake FLAG application for the support within the EU 2007-2013 Fishery Programme and for concerted activities supporting development of the fishery and local initiatives in geographic area around the Zegrzyński Lake.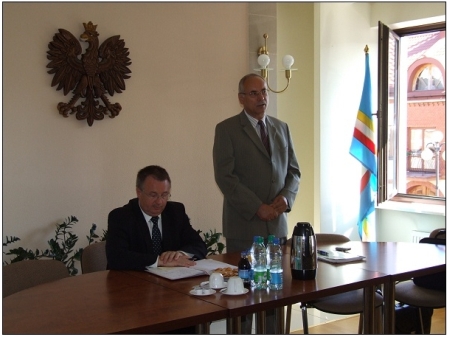 First training session for potential FLAG members on 21 August 2009 in Serock City Hall (Mr. Edward Trojanowski, ZLP LAG President – on the right and Mr. Jozef Zajac, Deputy Mayor of Serock – on the left)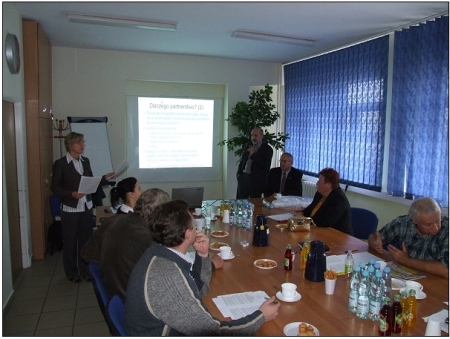 Second workshop for potential FLAG members on 8 October 2009 in the Legionowski County premises (Agrolinia Association trainers: Mr. Ireneusz Kamiński – on the right, Ms. Katarzyna Boczek on the left)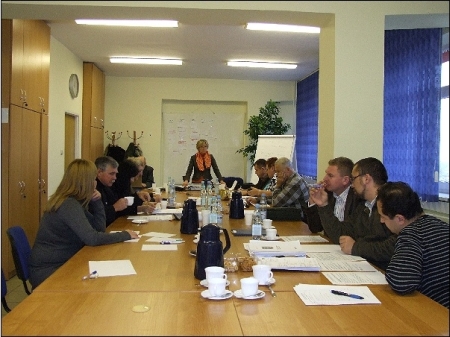 Third workshop for potential FLAG members on 9-10 November 2009 in the Legionowski County premises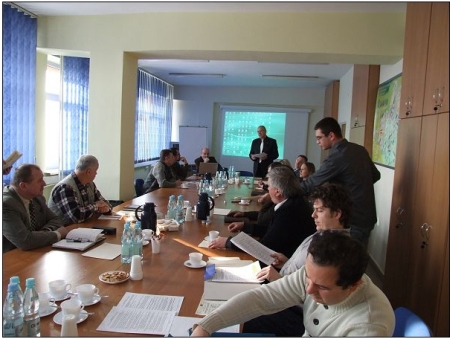 First Local Development Strategy workshop organized by the ZL FLAG on 25 January 2010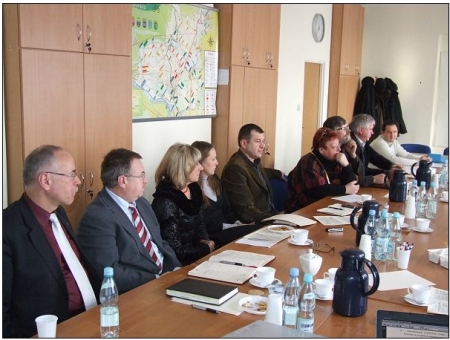 First Local Development Strategy workshop organized by the ZL FLAG on 25 January 2010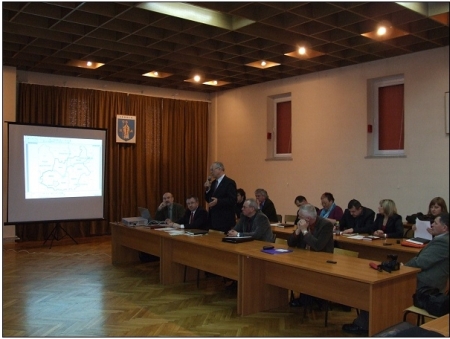 First Zegrzyński Lake FLAG General Assembly held on 24 February 2010
Bannerki
Formuła finansowania
Operacja współfinansowana przez Unię Europejską ze środków Europejskiego Funduszu Rybackiego zapewniającą inwestycje w zrównoważone rybołówstwo.
Instytucja Zarządzająca Programem Operacyjnym "Zrównoważony Rozwój sektora rybołówstwa i nadbrzeżnych obszarów rybackich 2007-2013" – Minister Rolnictwa i Rozwoju Wsi